Portfolio - Bandhosts
Bandhosts Live Music Directory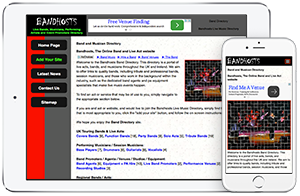 In many ways, the Bandhosts website started life as a forerunner to this very website.
It was in essence a website offering web design and hosting services to Live Bands, Musicians and Performers, hence "Band Hosts".
It was inspired once I had started to do web work for Mr Methane, and "PP and the Floorshakers", a soul band featuring Andy Till, bass guitarist.
Once my web development had taken on a wider focus than just entertainment, and I had launched my own website, the Bandhosts site became dormant and in many ways redundant.
I decided to relaunch the site as a Live Band and Musician Directory.
The directory is heavily optimised for search traffic, using various ethical SEO techniques, and now lists many UK acts and musicians.
Technically, the site runs in ASP, and is Content Managed.
Website Link:
Bandhosts Live Band Directory
Back To: Mike Irving Portfolio » Web Design Portfolio