Portfolio - Mr Methane
Mr Methane - The Farting Man!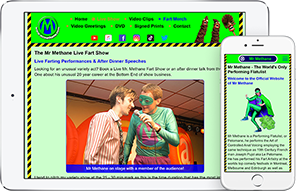 Mr Methane practices the art of Petomania. In short, he can fart, in tune, on demand. His hilarious comedy act has made him an international superstar, and has taken Mr Methane around the world. He has appeared alongside other comedy acts, and on big name TV shows such as Howard Stern, and Frank Skinner.
The website has a high bandwidth of traffic, it seems the world love Mr Methane, and the website provides them with downloads, fart related links, a guest book and a history section. There is also information on Mr Methane's Albums and DVD Video, available to buy on the site!
Written in ASP, Mr Methane can "log on" to update the world with his latest news articles, and make other changes to the site via a Content Management System (CMS).
Extra features in the website include an in-built Flash based MP3 Player, which is utilised by JavaScript to preview audio tracks from Mr Methane's two albums.
An ASP Image Verification System, or Captcha, has also been integrated into both the Contacts Section and the Guestbook, to help prevent SPAM.
Website Links:
Mr Methane
Back To: Mike Irving Portfolio » Web Design Portfolio