Portfolio - Model Land Rovers Off-Road
Photography and Stories featuring models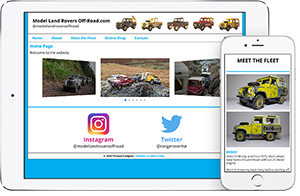 A friend of mine takes photos of die-cast model Land Rover vehicles, and turns them into stories on Social Media, particularly on Instagram.
He approached me to create a website once he started to build a big following.
We created a site that could enable fans to 'meet the fleet' and read more about the concept and the history behind it.
The site also features an online shop, selling merchandise related to the brand.
The site is responsive, written with a mobile-first mindset, and has a content managed database.
Website Link:
Model Land Rovers Off-Road
Back To: Mike Irving Portfolio » Web Design Portfolio