Portfolio - Andy Till
Andy Till - Session Bass Guitarist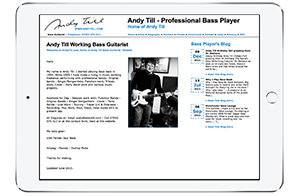 Andy Till is a professional bass guitarist from Macclesfield. Also known as Cheshire's Virtuoso of the Fender Bass, Andy has many years experience both in Professional bands, and as a Session Bass Player.
Andy wanted a website to promote himself and his services. The website I delivered features a CMS (Content Management System), allowing Andy to update the various pages of the website, and add news and pictures all by himself.
The site features MP3 downloads of Andy's work, news and pictures, a biography, and several custom pages, such as for Andy's TV extra acting work.
In October 2008, the site was subject to a major overhaul, including a new design and new features - read more.
The site runs in ASP and pulls from a database.
Website Link:
Andy Till - Session Bass Guitarist
Back To: Mike Irving Portfolio » Web Design Portfolio