Mr Methane Fart App Free for Android
Free Edition of The Mr Methane Fart App for Android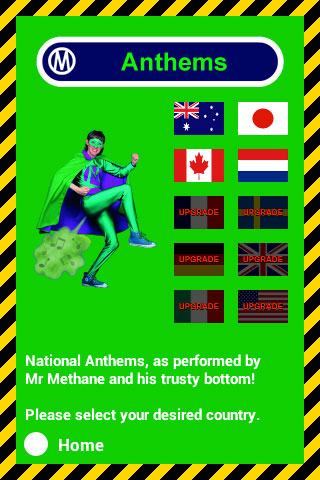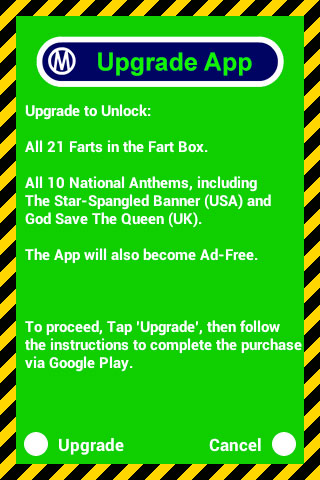 A free edition of the Mr Methane Fart App on Android.
The App is supported by Google AdMob Ads, and has limited features, that can be upgraded / unlocked via a Google Play In App Purchase.
Upon launch of the 'paid' version of the app, it became immediately obvious that the Google Play Store was swamped with free fart apps, and that our app was getting very limited visibility, despite rave reviews.
It is also fair to say that since the original "iPhone" version was developed in 2010, the Apps Market has taken a swing towards 'freemium' apps, that is: free apps, upgradeable via in app purchasing.
Not one to feel defeated, we thought we'd join in.
"Out of the box" the app features Interstitial Adverts from the AdMob Platform.
Only 4 of the "National Anthems", and 9 of the fart sounds in the "Fart Box" can be played in the free offering. Though an "In App Billing" purchase will unlock the full offerings, and remove the advertisements, effectively turning it into the same as the full / paid app.
The App is also available for Fire Phone / Fire OS / Kindle at the Amazon Appstore. The Amazon version does not have In-App-Billing, but instead links back to the store for those wanting to upgrade, to allow them to download the paid version.
This app is no longer available to download.