Mike Irving - Web and Mobile App Developer
ASP.NET Web Design, Search Engine Optimisation, Mobile App Development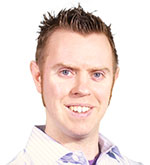 Welcome to the website of Mike Irving, Web Design, Mobile App Development and SEO Specialist.
I am from the town of Macclesfield in Cheshire, not far from Manchester, UK.
I have been working as a Software Developer since 2002, starting out with ASP (JavaScript and VBScript Syntax versions) and Microsoft SQL Server. I am now working largely in Visual Studio 2012 / ASP.Net 4.5 (C# Syntax), utilising technologies including Web Services, AJAX and LINQ.
On the client side of Web Design, I am a competent HTML5 coder, I use CSS3, and I write multi browser compliant code that conforms to the relevant W3C standards.
I am also highly experienced in client-side scripting code, programming cross-browser JavaScript (ECMAScript) and implementing the latest jQuery libraries.
I made may first mobile app for the Apple iPhone in 2010,
and I am now actively developing Mobile Apps for iOS Devices (iPhone, iPod Touch and iPad). My day to day work now incorporates App Development and Mobile Web Development.
My first app for the Android platform launched late in 2013,
and Windows Phone is now on my development to-do list too.
During my career, I have had the pleasure of working at various companies, in Cheshire and Greater Manchester. These roles have included working at Digital Agencies, a leading SEO (Search Engine Optimisation) Company, large corporations and small businesses.
I have experience in the following technologies:
ASP, ASP.Net (C#), C++, Objective-C, SQL Server, T-SQL, AJAX, LINQ, Web Services, HTML, XHTML, CSS, JavaScript, jQuery, IIS and Microsoft Access.
The main programs I utilise for web design and application development include:
Microsoft Visual Studio 2012, Microsoft SQL Server 2012, SVN and Adobe Photoshop.
For iOS App Development, on Mac OS X, I either use Xcode for programming in Objective-C, or Xamarin Studio for programming in C#. My initial apps were developed using Microsoft Visual C++ and DragonFireSDK.
I build websites for all versions of the following web browsers:
Microsoft Internet Explorer, Mozilla Firefox, Opera, Apple Safari and Google Chrome.
Other Technologies I have experience in:
MySQL, Borland Delphi, Microsoft Visual Basic, some Apache, PHP and JSP.

New App: Grid Ref UK and Ireland
Get your location as 3 Digit GB and Irish Grid References, for Android Devices.
31 Mobile Apps
available to download
29 iOS Apps in the App Store,
12 Android Apps available across
Google Play, Nokia X, Samsung Apps,
and the Amazon Appstore for Android
138,468†
Apps Downloaded
Developer Blog
Google Cloud Platform Developer Roadshow - TechHub Manchester
Last week I was in attendance as the Google Cloud Platform Roadshow visited the newly relocated Manchester TechHub. I learnt a lot about the Cloud Platform offerings from Google, got some answers t...
•
Read This Blog Entry
Nokia X Go! Port - London
On Friday I was lucky enough to be one of a select bunch of European Developers to join the Nokia X - Go! Port Bus Tour, at the final stop in London! The Bus, a converted, green painted, London Rou...
•
Read This Blog Entry
Setting up iOS Projects for Cordova
I recently had reason to use Apache Cordova / PhoneGap to build a Native-Wrapped HTML5 App for use on iPad. Whilst I have worked on PhoneGap / Cordova projects in the past, I found the setup proces...
•
Read This Blog Entry