Website SEO Checks mobile app
Search Engine Optimisation App for iPhone, iPad, and Android devices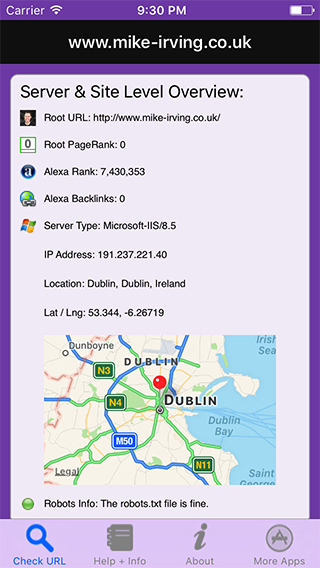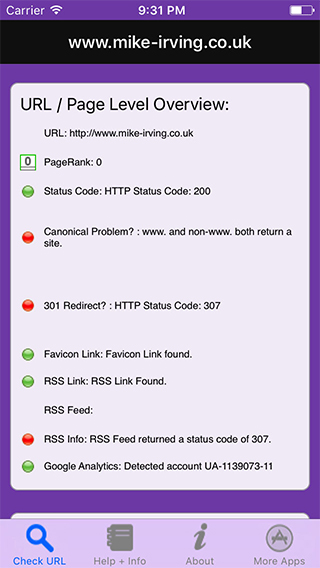 Website SEO Checks is a Search Engine Optimisation app that provides an overview of many relevant SEO statistics, for any given URL.
The app is available for all iOS, Android devices.
When choosing the stats to show in this app, I chose not to concentrate on Search Positions. Instead, the app provides many of the more useful stats that can determine the health of a website or page.
Website SEO Checks determines...

Google PageRankô of the given URL and the Root URL
Alexa Rank of the website
The type of Server that is running the website,
i.e. Microsoft IIS, or Apache
The IP Address of the server
Geographic Location of the Website / Server,
including a Google Map
Whether a Robots.txt bot exclusion file is present and correct
The presence of Google Analytics tracking scripts,
showing the applicable Google Analytics account number
The HTTP Status Code returned by a site / page,
ideally returning "200/OK"
Canonical URL issues,
find out if your site is OK
If webpages are redirecting as desired,
ideally with a 301 Redirect
Whether the HTML contains a Favicon Link,
and see the Favicon if OK
The presence of an RSS Feed link,
and whether that feed returns OK
Presence of a Title + Keywords & Description "Meta Tags",
plus get the length and number of words
The app is simple, and will return a result in seconds#. Simply enter the URL you wish to lookup!
Includes Help / FAQs.
# - App requires an Internet Connection to work.
This app is no longer available to download.