SEO URL Ping mobile app
Website / Blog / URL Submission tool for Android, iPhone, iPad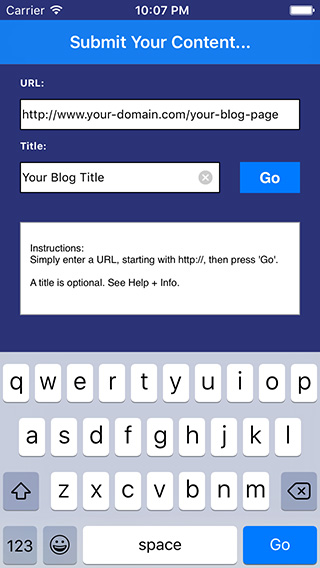 SEO URL Ping was designed for blog writers and website owners, to assist them in promoting their latest blog entries or new web pages.
The app is very simple, enter the URL and Title of your latest blog, or new website page, and the app will Submit / Ping the details to a variety of Search Engines, Blog Aggregators and other services.#
Search Engines / Blog Aggregators that the application will send to...
Google, Yahoo!, Yandex, FeedBurner, Ping-o-Matic, youdao, Technorati, blo.gs, Twingly, livedoor, NewsGator, FC2, Weblogs, BlogPeople, Syndic8, PubSub, Blogs Now, Moreover, Blogdigger, PingMyBlog
Upon completion, a report will be shown outlining which providers successfully received the submission.
The app should not be used to submit the same content multiple times, as this may be considered SPAM.
Actual inclusion of your content on the destination services is not guaranteed.
Stay ahead of the competition in Search Engine Optimisation (SEO) by making sure your content stands the best chance of getting seen quickly!
Help Section / Information is provided within the tool.
Available for iOS (iPad and iPhone), Android Smartphones.
Now a free app, supported by mobile ads.
# - App requires an Internet Connection to work.
This app is no longer available to download.