Many Maps for iOS and Windows Phone
Maps from Bing, Google, Nokia and OpenTouchMap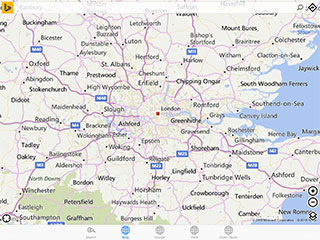 As the name might suggest, "Many Maps" provides access to many maps. The original app was designed to provide alternatives to the built in iOS Maps.
The app allows control of the web applications provided by Bing (Microsoft), Google Maps, Nokia (NAVTEQ) and OpenTouchMap (a mobile implementation of the OpenStreetMap project data).
Each provider carries different data, and each has their own advantageous features, for example Street View in Google Maps.
Each of the four maps can be loaded in separate tabs. The user can search for a location in each map#, or ask the software to show their current position#.
The software is compatible with iPad and iPhone. An internet connection is required in order to load data and imagery.
Version 1.2 represents my first iPhone App supporting the Four Inch Screen of the iPhone 5.
# Not all maps support all search options. In order to show your "current location", you must grant permission to the app to use "location services".
Windows Phone version
In 2015, I ported the app to Windows Phone, another platform where people feel they want more than the standard mapping provider.
This app is no longer available to download.