Kentico Go for iPhone & iPad
Kentico Website Management App for iPhone, iPod Touch and iPad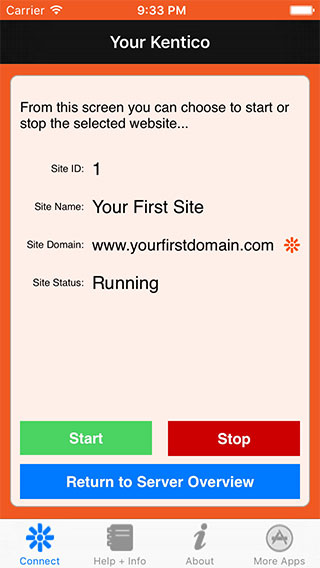 Introducting Kentico Go,
a Universal iOS App to help you manage your Kentico website.
During my career as a Web Developer, I have spent many man-hours working with websites that run upon Kentico CMS.
For those of you that don't know, Kentico is a powerful Content Management System (CMS), that runs upon the Microsoft ASP.Net platform.
Like all websites, Kentico websites can run into difficulties, and encounter memory issues.
Using 'Kentico Go', you can now log in to your Kentico website from your iPhone or iPad, to perform essential maintenance tasks.
Functions of Kentico Go:
Free Memory on the server
Restart the server
Empty Cache items currently stored on the server
Start or Stop individual websites
View the Kentico Event Log
Before you start...
You must install the Kentico Go iOS Manager script into your Kentico, to allow the app to connect to your website(s).
The Kentico Go iOS Manager is available at GitHub.
(Universal for Kentico 4.0, 5.0 and 6.0 and newer)
See the GitHub readme for instructions.
This app is no longer available to download.