Talks and Technical Demos
Public Speaking from Mike Irving, Software Developer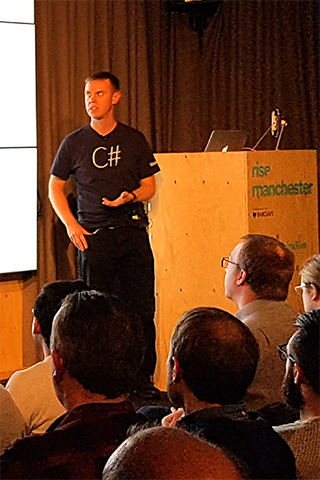 Throughout my professional career as a computer programmer, I have often presented demos, findings and data analytics to a variety of audiences. Both internally to other staff, and to customers in meetings and special events.
Recently, I have begun public speaking, delivering technical talks and insights to interested parties.
I am co-organiser of both Dot Net North in Manchester and Macc Tech in Macclesfield.
I have personally spoken at both of these meetups, and at other events too, such as Xamarin Dev Days.
Please get in touch if you are interested in learning more, have an interest in one of my past talks, or would like to ask me to speak at your event.
If you prefer, please engage with me on LinkedIn or Twitter.
My experience is vast, covering C#, web development, mobile apps, and cloud.

Forthcoming talks / demos / presentations:
- no talks currently scheduled -
---
Events I am attending: (as organiser / attendee)
11th December 2018 - Manchester
Dot Net North: Christmas Social - booking website
---
Past events I have personally presented talks and demos at:
3rd July 2018 - Auto Trader, Manchester
Dot Net North: Free SSL with Let's Encrypt - further information
20th October 2017 - UKFast Campus, Manchester
Xamarin Developer Day: Xamarin and Azure Mobile Apps - further information
22nd May 2017 - The Park Tavern, Macclesfield
Macc Tech: Free SSL with Let's Encrypt - further information
6th February 2017 - MadLab, Manchester
NSManchester: The Windows Bridge for iOS - further information
24th January 2017 - Rise, Manchester
Dot Net North: The Windows Bridge for iOS - further information
4th November 2016 - Rise, Manchester
Xamarin Developer Day: Xamarin and Azure Mobile Apps - further information
24th October 2016 - The Park Tavern, Macclesfield
Macc Tech: Mobile Apps - Experiments in Strategy and Monetization - further information